EDIT MAIN
Mental Health in #205
It is vitally important that students are cared for in school in a holistic manner. This care must expand beyond academic needs alone. Research demonstrates that students who receive social and emotional and mental health support achieve better academically. A student's sense of connectedness and well-being, attention, and ability to learn and cope with difficult circumstances improve when mental health needs are met. Conversely, when left unmet, mental health problems are linked to academic and behavior problems. Due to these factors and compounded by the COVID-19 pandemic, CUSD #205 prioritized the availability of resources in this area.
The Larger Picture: SEL in #205
Mental health services make up an important aspect of a bigger picture, which is our district's Social and Emotional Learning program. According to CASEL, Social and Emotional Learning (SEL) is the process through which children and adults acquire and effectively apply the knowledge, attitudes, and skills necessary to understand and manage emotions, set and achieve positive goals, feel and show empathy for others, establish and maintain positive relationships, and make responsible decisions. CASEL stands for Collaborative for Academic and Social and Emotional Learning. CASEL provides the research-based framework our district uses to create and monitor goals around SEL. A leadership team, consisting of student service personnel from each school building, makes up the SEL Steering Committee for our district. The SEL Steering Committee is led by Mindi Ritchie, who oversees SEL and mental health in District 205. Mrs. Ritchie also acts as Principal of the district's alternative school, GHS North. The SEL Steering Committee's work is carried out through subcommittees with areas of focus including community outreach, SEL curriculum, teacher and staff wellness, and mental health screening, among others. For a full list of our district leaders in SEL and their subcommittee membership, please click HERE. To check on our district's current progress (Needs Assessment) in terms of the CASEL district implementation framework, click HERE.
Mental Health Screening
District #205 is one of the only districts in the area to provide a universal mental health screener for 9th grade students. Mental health screening was piloted for 9th grade students only during the 20-21 school year. This pilot program was created in response to a change in IL legislation. Consent for mental health screening is now a part of school registration, just as vision and hearing screenings are. As a part of the pilot, all 9th grade students, for whom a parent/guardian consented, were given the SDQ (Strengths and Difficulties Questionnaire) remotely. By completing the questionnaire early in the school year, students identified as high need based on the results of the questionnaire were offered services rapidly. These students received services in a proactive fashion rather than reactive. That is, the parent/guardian was contacted and a referral was made for services before issues such as poor attendance and academic difficulties could potentially worsen. Students needing additional services were able to receive services at school through our mental health therapist. As needed, the student was also referred to other outside community providers. To learn more about the mental health screening process in our district, click HERE, or contact Sarah Wills at 973.2261.
Suicide Prevention
Suicide prevention is an important part of our comprehensive mental health plan. Beginning this school year, CUSD #205 is using Beacon by GoGuardian, a service that identifies students most at risk for suicide. This service provides an alert that indicates that a student has performed an internet search that is indicative of suicidal ideation. It is estimated that 80% of the time a person performs research online before attempting suicide. Please click HERE for more information about this valuable service.
In 2020 all sophomores at Galesburg High School were trained in Teen Mental Health First Aid. tMHFA is an in-person training designed for high school students to learn about mental illnesses and addictions and how to identify and respond to a developing mental health or substance use problem among their peers. Similar to CPR, students learn a 5-step action plan to help their friends who may be facing a mental health problem or crisis, such as suicide.
District #205 also partners with community agencies such as the American Foundation for Suicide Prevention and the Out of the Darkness Suicide Prevention Walk to provide information and resources to families about this important topic.
SEL Curriculum
CUSD #205 began implementing a research-based SEL curriculum during the 20-21 school year. This curriculum is deployed weekly to all students in grades K-12 in #205. These engaging lessons are offered virtually and aligned with the CASEL framework. For more information about Suite360, click HERE.
Student Engagement
When students began remote/E-Learning in March 2020, it became abundantly clear that we needed to create ways to ensure that no students would fall through the cracks in our district. In response to this, #SEL in 205 created an engagement flowchart that outlines the process for student service personnel to respond to students who aren't engaging in their learning. "SEL on Wheels" began rolling in response to this need. Student service personnel in our district use a minivan to travel around town to meet with students in need. Students are paired with technology if needed, social and emotional support, tutoring, and a meal. If your student needs SEL on Wheels, please contact your student's school.
Teacher Resources Around SEL and Mental Health
When fully implemented, SEL is a part of every aspect of the school day, including core curricula. Teachers in District #205 have received resources and professional development around SEL in the classroom. A teacher dashboard was created to cull a variety of resources. Additionally, this year alone our teachers have received professional development around brain regulation, LGBTQ issues and mental health, and restorative practices. Click HERE to view the referenced teacher dashboard. Mindy Matthews, a district-level instructional coach, uses 50% of her time on SEL in 205. Our long-term goal is for SEL to be found within every classroom and curriculum in #205.
Teacher and Staff Wellness
An important part of the CASEL framework involves implementing SEL at all levels in a district, which includes the central office and all staff. Teaching in a pandemic has been particularly stressful. By caring for its teachers, #SEL in 205 believes that these behaviors can be modeled for our students as well. A website was created to aid teachers in accessing resources and information around wellness. This site is found HERE. Additionally, every Wednesday CUSD #205 staff receives an e-mail with the subject line "Wellness Wednesday". This brief digital newsletter focuses on wellness themes/topics and uplifting messages for district staff to think about and try out. Some themes have included: Gratefulness, Friendship, Muster Your Inner Palm Tree, and Am I Enough? The Wellness Wednesday newsletters are linked on the Mental Health and Wellness website and can also be found HERE.
School-Based Mental Health Therapists
In August of 2017, the CUSD #205 Board of Education approved a partnership with Bridgeway, INC, a community mental health provider in Galesburg, IL, to pilot a program for a school-based mental health therapist to be located at Lombard Middle School. In 2019, this program was expanded to include the placement of a therapist at Churchill Jr. High, and in 2020, the program added another therapist at Galesburg High School, due to funding provided by the Knox County 708 Mental Health Board. If you believe your student needs served by a school-based mental health therapist, please contact your child's school.
For Additional Information
Our district Communications Specialist is finalizing the creation of a website around all things SEL and Mental Health in #205. For additional information about SEL and/or Mental Health, contact Mindi Ritchie at 309.973.2380 or mritchie@galesburg205.org.
SOCIAL AND EMOTIONAL LEARNING IN GALESBURG CUSD #205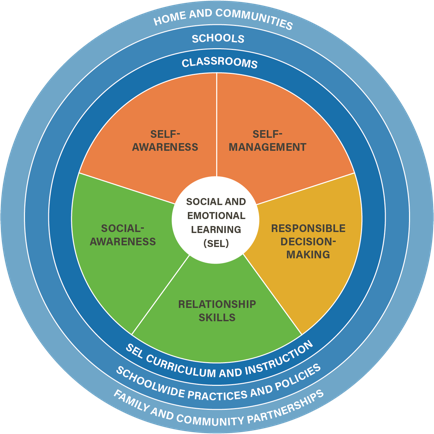 SEL Competencies as defined by CASEL (Collaborative for Academic, Social, & Emotional Learning)
Self-awareness
The ability to accurately recognize one's own emotions, thoughts, and values and how they influence behavior. The ability to accurately assess one's strengths and limitations, with a well-grounded sense of confidence, optimism, and a "growth mindset."


Identifying emotions
Accurate self-perception
Recognizing strengths
Self-confidence
Self-efficacy

Self-management
The ability to successfully regulate one's emotions, thoughts, and behaviors in different situations-effectively managing stress, controlling impulses, and motivating oneself. The ability to set and work toward personal and academic goals.

Impulse control
Stress management
Self-discipline
Self-motivation
Goal-setting
Organizational skills

Social awareness
The ability to take the perspective of and empathize with others, including those from diverse backgrounds and cultures. The ability to understand social and ethical norms for behavior and to recognize family, school, and community resources and supports.


Perspective-taking
Empathy
Appreciating diversity
Respect for others
Relationship skills
The ability to establish and maintain healthy and rewarding relationships with diverse individuals and groups. The ability to communicate clearly, listen well, cooperate with others, resist inappropriate social pressure, negotiate conflict constructively, and seek and offer help when needed.


Communication
Social engagement
Relationship-building
Teamwork

Responsible decision-making
The ability to make constructive choices about personal behavior and social interactions based on ethical standards, safety concerns, and social norms. The realistic evaluation of the consequences of various actions and a consideration of the well-being of oneself and others.


Identifying problems
Analyzing situations
Solving problems
evaluating
Reflecting
Ethical responsibility