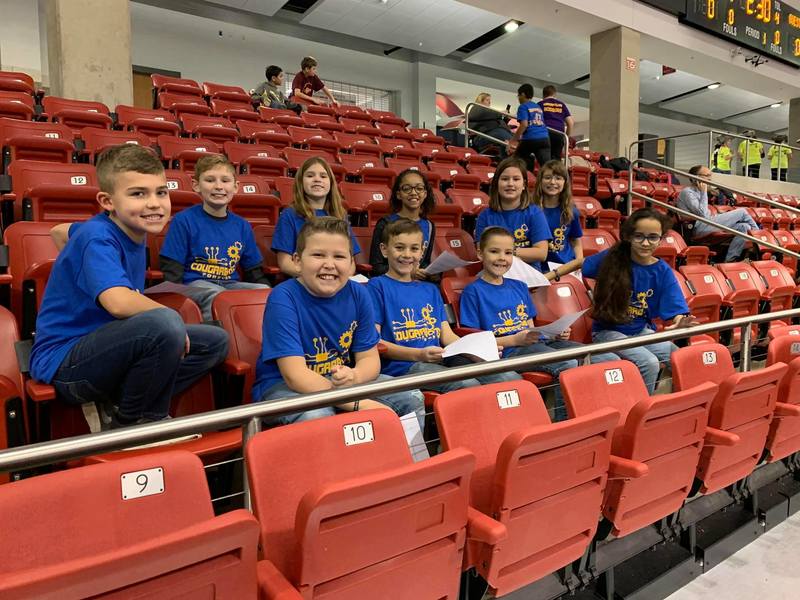 The Gale Cougarbots is a team of ten 4th and 5th graders who participate in the First Lego League (FLL) Robotics program. Through this program, team members learn Core Values, such as inclusion (respecting each other and embracing their differences), discovery (exploring new skills and ideas), innovation (using creativity and persistence to solve problems), impact (using what they learn to improve our world), teamwork, and fun.
At the recent competition, the team gave a 5-minute presentation about their problem and solution. Students worked every Tuesday and Thursday and some Saturdays to prepare for their upcoming competition. According to Fourth Grade Student, Grady H., "We worked as hard as we could to stay focused to get the job done and we had to present to many different people. We spoke with our school and Mr. Shaw, the person who helped us with the idea, of using sunflowers as bio diesel fuel. We researched online to help gather information for our presentation."
The Cougarbots also design a robot using Lego Mindstorms EV3 technology. The team members add attachments to their robot and provide the coding necessary to complete missions in order to earn points. Fourth Grade Student, Owen B. was asked about his favorite moment at the competition, "My favorite part of LEGO robotics was when we had just finished at the last table run and Parker and Kinlsey were counting the points with the referee, they came back and told us that we got 215 points and we looked at the score board and it said we were at fourth, then we all were pretty sure we were going to state, and we are!"
The Cougarbots received the Rising Star award, which is given to teams the judges notice and expect great things from in the future. The team performed well enough in all aspects of the competition, including the Robot Game, to advance to the State competition in January!
The Gale Cougarbots team will travel to one of three Championship competitions, where they will have the opportunity to present for judges once again.When asked what the team will work on to prepare for the next competition, Fourth Grade Student, Parker S. said, "The one thing we do best is have fun...and use teamwork! We will just keep doing what we are doing."

Gale Elementary Fourth Grade Teacher, Mrs. Bevenour, and her husband, Mr. Bevenour lead the Cougarbots. "As a coach, it is an amazing feeling to see the team members rewarded for all their hard work. All ten team members have grown so much as individuals and as a team this season. I am confident that the skills they have learned through the Lego Robotics program will help them build successful futures!"
Good Luck, Gale Cougarbots!